New Zealand Press covers Gourmand Breaks Food & Wine Tours in Spain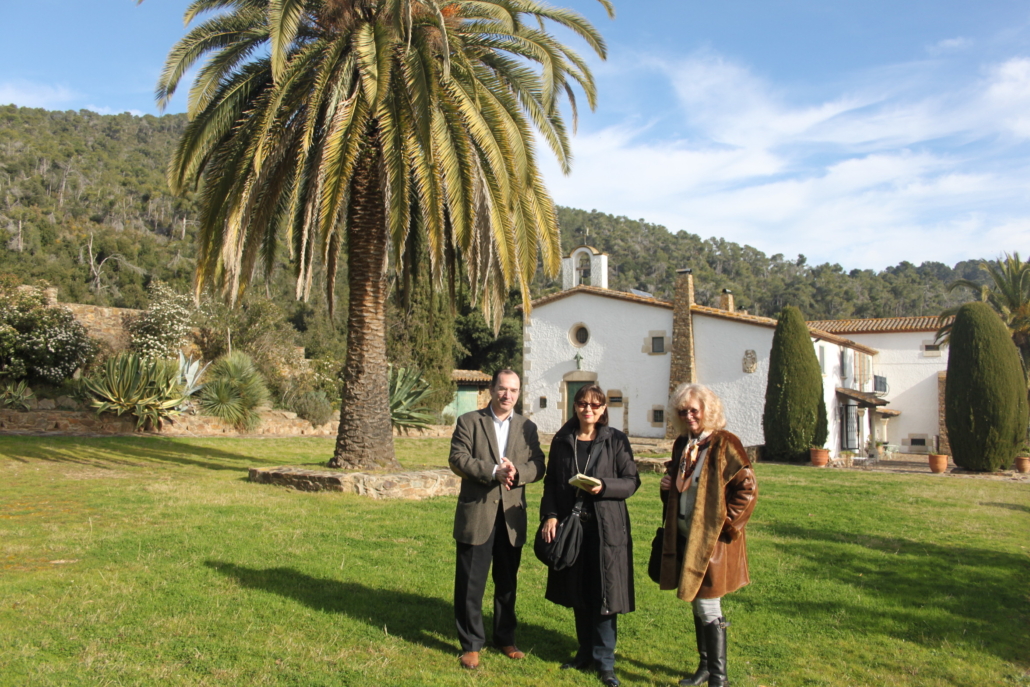 Earlier this year we had a wonderful time with a super lady from New Zealand who not only has her own company, http://www.epicuretrading.co.nz  but is also a Travel Writer and wished to write an article about our tours.  We were of course delighted to assist and met Catherine Bell when she arrived in Girona by Spain's very fast AVE train from Barcelona – as Catherine writes in her article,
"I soon found myself on a train hurtling towards Girona.   As I watch the digital speedometer at the front of the carriage reach 243 kmh, I recall, while trying hard not to feel nervous, that the last time I took this train north from Barcelona it was a two hour journey.   This one however, will take just 37 minutes, thanks to the new fast AVE train, a boon for commuters and tourists alike.   It's just made for day trips to towns outside of Barcelona.   The Dali museum in Figueres is now a quick one hour away and Girona where I am heading, a mere hop skip and a jump."
Joining us for our day with Catherine was one of our Officially Licensed Guides, Carlos, who Catherine says in her article is, "charming and ridiculously handsome" (which is very true!) and who very frequently guides our clients around in Catalonia and thrills them with his knowledge (apart from his obvious charm).
First off we took Catherine to a super little hotel, which also adds to its delights a very modern and fascinating organic winery.   After a guided walk through the winery environs and a further wander around the rest of the hotel facilities, including the goats cheese, pate, sausage and olive oil making facilities, we were off to continue showing Catherine more of our fabulous Emporda region with a visit to Pals,
"Moving on towards the coast we spend time wandering the cobbled streets of Pals, a rather perfectly restored medieval villages which in summer boasts some great eateries……..If  the door to the church is unlocked it is worth poking your nose inside – parts of it date back to the 10th century….."
We all stopped for a delicious lunch of local produce, served of course with a great Empordan wine from the Peralada winery not too far away.   Afterwards we really needed a walk to shake off some of the calories we had gained from the super lunch and moved on to Calella de Palafrugell for a wander along the front,
"….set around a series of little beaches and ringed with simple beachside homes and small hotels, many of which have their own underground access to the beach.   In summer, I imagine it is a multicoloured enclave of beach umbrellas and bikinis – but right now it's a pretty but rather sleepy little hollow with old fishing boats pulled up on the sand and a few locals taking their afternoon stroll."
Of course our day together included many other sites, but we finished off in Girona, prior to Catherine taking her train back to Barcelona,
"Back in Girona we have time to explore the town's exquisite cathedral and to wander the well preserved Jewish Quarter and museum.   Crossing the river on one of the many foot bridges allows a view of the cathedral at dusk that I will always remember……"
Enjoy the full article written by Catherine Bell for the New Zealand Sunday Star & Times "Escape" magazine http://www.stuff.co.nz/travel/uk-europe/8647689/Riches-of-Catalonia
Wets your appetite?   Then join us for A Taste of Catalonia Day Tour or The Best Day Tour in Catalonia .  We'll be happy to send you information about these tours and any other long or short tours on our website, www.gourmandbreaks.com.
https://www.gourmandbreaks.com/wp-content/uploads/IMG_5011.jpg
1568
2352
admin
https://www.gourmandbreaks.com/wp-content/uploads/GourmandBreaks_v12.png
admin
2013-05-24 10:19:49
2020-11-17 15:03:54
New Zealand Press covers Gourmand Breaks Food & Wine Tours in Spain