Home Cooking with Ferran Adria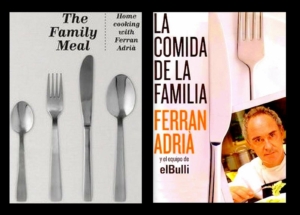 How many people we wonder would love to cook like famed Spanish Chef Ferran Adria, but really wouldn't dare.   Now comes your opportunity with a new Cookery Book just published, The Family Meal: Home Cooking with Ferran Adria.
This book does not contain the spheroids, foams and complex cooking methods of El Bulli Restaurant methods, but is in fact a compilation of the restaurant's ever thoughtful staff meals.  The Spanish recipes are very usable and include ingredients that are not only readily available, but consciously inexpensive, which can't be a bad thing in these times of crisis. In Adria's words, "At El Bulli we were 75 people between chefs and waiters and I have created cheap practical menús for everybody at 3 or 4 Euros per  menú that everyone will like and they are elaborated in half an hour – màximum 50 minutes…..my favourite dish from the book was noodles with mussels."
Despite the fact that in our opinion the names of the recipes lose something in the translation from Spanish to English (they sound much more basic than they really are) for example, Rice in a rich sauce  with crab:Tomato and basil salad , coconut cake is one "menu" which is truly delicious but very cost conscious;  another "menu" is fried eggs with asparagus, chicken wings and fruit sangria – sound simple?   Yes, they are, but the recipes are designed to suit both the cookery beginner and those with considerably more experience behind them.
The book is emblazoned with absolutely super photography, each recipe including many instructional photographs – always a fantastic help! There is a photo gallery of key pieces of kitchen equipment used in the recipes; a list of all the spices used in the book. Tips to make the most of ingredients and buying tips to assist you in recognizing freshness. The cookery advice is to the point, but still has meticulous instructions, even if the advice simply covers poaching an egg.
In a recent interview with Adria in La Vanguardia, a prominent Spanish newspaper, he was asked if he ever cooks at home, to which the Spanish chefs reply was, "The chef cooks at his restaurant, not at home.  I go to La Boqueria, I buy mushrooms, seafood, fish and cook it a la plancha or poach it and serve it with extra virgin olive oil – it is hardly Cooking!" We doubt very much that his home cookery is quite as simple as he claims!
If you would like to learn to cook like Ferran Adria and discover all his favourite market stalls for yourself at La Boqueria market, then our Gourmet Cooking Class Day Tour in Barcelona could be just what you are looking for. The private tour includes a guided tour of all the foodie hotspots in the city as well as a visit to La Boqueria Market to hand pick only the freshest local  ingredients for your private gourmet cooking class!
https://www.gourmandbreaks.com/wp-content/uploads/GourmandBreaks_v12.png
0
0
admin
https://www.gourmandbreaks.com/wp-content/uploads/GourmandBreaks_v12.png
admin
2011-11-11 05:16:50
2020-11-19 15:21:02
Home Cooking with Ferran Adria