Michelin Starred Restaurants in Spain 2011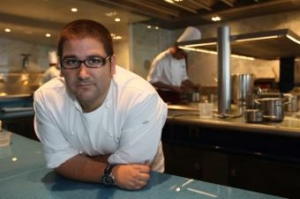 See NEW Michelin Starred restaurants for 2013
San Sebastian, the only city in the world with more concentration of Michelin stars by inhabitant, was chosen to unveil the content of Michelin Guide 2011 for Spain and Portugal. But there are no new three stars, there are a dozen losers, those who have lost stars and only three chefs have gained two stars. Last night, in the Maria Cristina hotel, the suspense was finally resolved.
 Every year, the unfolding of the culinary Oscars is a thriller with massive tension to know  who will be the shining stars of the new year.   To whom the stars have been given and from whom they have been taken away.  So now from yesterday, the gastronomic market in Spain accounts for 21 new Michelin stars, which means Spain dominates with 144 restaurants with the Michelin distinction.
As in the last edition, when the third star for Spanish chefs, the Roca brothers was celebrated by everybody, yesterday the joy was for Dani Garcia. The talented Spanish chef from Malaga, the driving force of the gastronomic tapa with his franchise La Moraga, received the second star for his restaurant Calima, in the hotel Melia Don Pepe in Marbella. Girona, this gastronomic power, adds another star with the seafood cuisine of Paco Pérez, from Miramar in Llanca.
Other one star news – the twins Javier and Sergio Torres, who in their restaurant Dos Cielos ( Two Heavens) in the hotel ME in Barcelona mix Mediterranean cuisine with exotic products from Amazonia.
If you take into account the leading position of Spain in the culinary world, which was started in the last decade by the revolutionary Ferran Adria, is this balance reflected in the Michelin guide?  " I have a lot of respect for Michelin; it is a very serious company. I believe Spain deserves many mores stars, but it is their guide. If you don't like it, make another". This is the opinion of the chef from elBulli, whose restaurant appears in the Michelin guide for the last time, as on the 30th June, 2012  it will close its doors and re-open in 2014 as a fund. In practice, it means it will disappear from all the guides and classifications.
Complete list of Michelin stars in Spain:
3 stars:
There are no new 3 stars, but there are no losers either:
Akelare, Arzak, elBulli, El Celler de Can Roca, Martín Berasategui-Lasarte, Can Fabes, Sant Pau)
New 2 stars:
Azurmendi (Larrabetzu, Vizcaya), de Eneko Atxa. Calima (Marbella), de Dani García. Ramón Freixa Madrid. Miramar, de Paco Pérez (Llançá, Girona)
New 1 star:
Caelis (Hotel Palace Barcelona). Dos Cielos (H. Me Barcelona). Moments (H. Mandarin Barcelona). Hisop, de Oriol Ivern. Ferrero-Paco Morales (Bocairent). Gadus (Cala D'Or) Mallorca). Alborada (A Coruña). Venta Moncalvillo (Aroca de Rioja). Mirador de Ulía (Donostia). Zaranda Hilton Satorre (Llucmayor, Mallorca). Kabuki (Madrid). A Poniente (Puerto de Santa María). Santo (Hotel Eme Catedral, Sevilla). Capritx (Tarrasa). Arrop (Valencia). Maruja Limón (Vigo). Ikea (Vitoria-Gasteiz).
Withdrawals from 2 stars to 1
Abac (Barcelona).
Loss of the one star they originally had
Hispania (Arenys de Mar). Freixa Tradicio (Barcelona). El Ermitaño (Benavente). Pardo (A Coruña). Arrop Tradicio (Gandía). Vivaldi (León). Zaranda (madrid). Altair (Mérida). El Cenador de Salvador (Moralzarzal, Madrid). Plat D'Or (Mallorca). Tragabuches (Ronda, Málaga). Casa Marcelo (Santiago de Compostela). Tàpies (La Seu D'Urgell). El Cingle (Vacarisses, Barcelona). El Rincón de Antonio (Zamora).
Well done to all our Spanish chefs!
If you would like to enjoy a Food and Wine Tour of the best of Spain´s Michelin starred restaurants let us customize your trip to include some of the most famous dining experiences in Spain!
https://www.gourmandbreaks.com/wp-content/uploads/GourmandBreaks_v12.png
0
0
admin
https://www.gourmandbreaks.com/wp-content/uploads/GourmandBreaks_v12.png
admin
2010-11-26 04:02:03
2020-10-21 17:02:59
Michelin Starred Restaurants in Spain 2011