Tortilla de Patatas/Potato Omelet – Traditional Spanish Recipe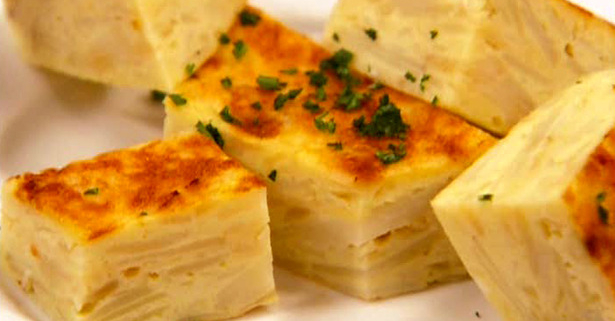 "Tortilla de Patatas" Spanish Potato Omelet is the most common gastronomic specialty found throughout Spain. While there are numerous regional variations, the most common version is the one made with eggs, potatoes and onion.  Tortilla may be eaten hot or cold and is commonly served as a Pintxo or a Tapa.  (More about Pintxos and Tapas) .  This traditional Spanish recipe is quick and easy to make at home, and, it's a guaranteed crowd pleaser!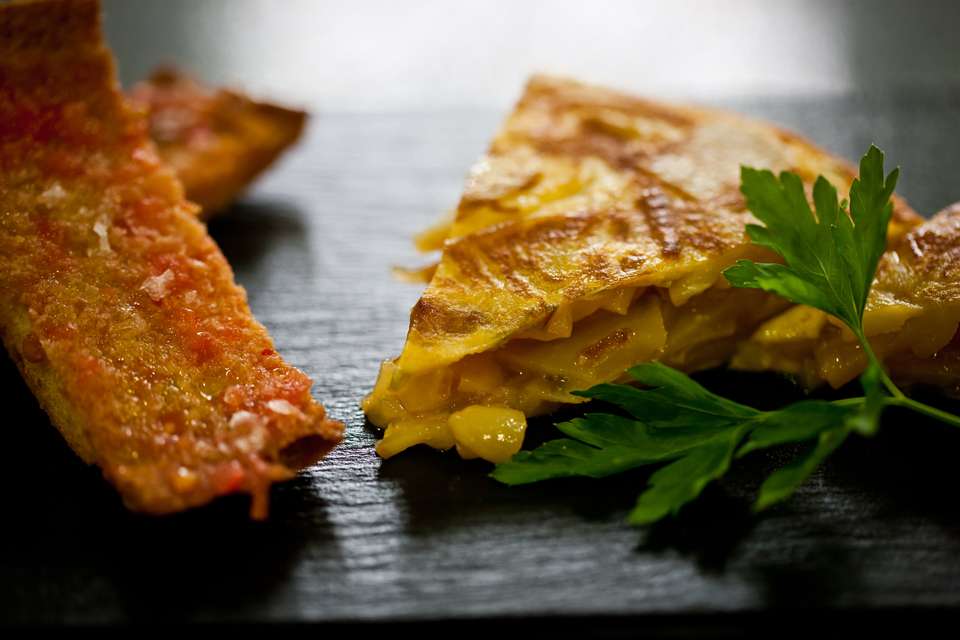 Ingredients for Tortilla de Patatas / Spanish Potato Omelet recipe Makes 16 tapa servings
2 lbs/ 1 kg potatoes
6 tbsp olive oil
2 tbsp chopped onion
6 eggs
1/2 tsp salt
METHOD for Tortilla de Patatas / Spanish Potato Omelet recipe
Peel the potatoes and either slice them thinly or cut into dice.
Heat some oil in a non-stick frying pan and cook the potatoes slowly until fork tender, about 30 minutes, adding the chopped onions towards the end. The potatoes should not brown.
Beat the eggs in a bowl with the salt. Place a plate over the potatoes and tip out the excess oil. Combine the potatoes and onions with the beaten eggs.
Add some oil to the frying pan and pour in the mixture of eggs, potatoes and onions. Cook the omelet on a medium heat until set on one side. Shake the pan to keep it loosened on the bottom.
Place a plate on top of the pan. Hold it tightly and reverse the pan, so the tortilla turns out on the plate. If necessary, add additional oil to the pan.
Slide the tortilla back into the pan to cook on the reverse side. When the omelet has set, slide it out onto a serving plate.
Tastes great served with 'Pan Con Tomate' literally bread with tomato.  A tasty, and easy, accompaniment: After toasting the bread, rub a peeled garlic clove over the toast, usually half a clove is good for one slice of toast. Then, drizzle olive oil over the bread.  After the garlic and olive oil,  firmly rub half a tomato over the toast, making sure to squeeze out all the seeds, juice and pulp.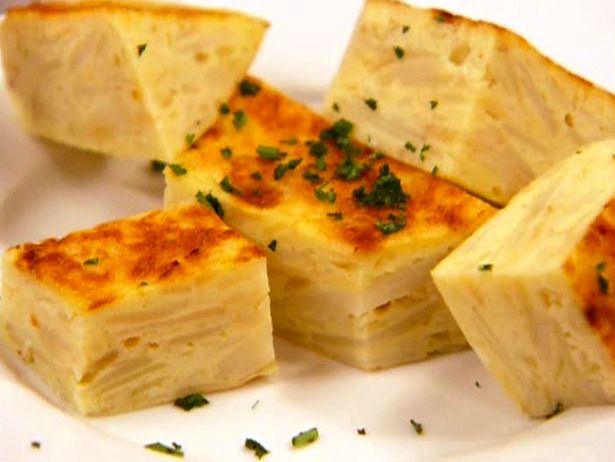 Learn to cook Spanish Omelet and similar typical Spanish dishes on our Cookery Tour in Northern Spain.  A fantastic private tour providing an insight into Spanish Food and Drink with some interesting visits to artisan producers and medieval villages, cooking lessons, authentic lunches, gourmet tastings and a guided tour of probably the best market in the World – La Boqueria, Barcelona.
All our Culinary Tours are exclusively private and can be adapted to suit your preferences.  Contact us for your personalized quote.
https://www.gourmandbreaks.com/wp-content/uploads/Spanish-Omelet.Tortilla-Espanyola.jpg
462
615
admin
https://www.gourmandbreaks.com/wp-content/uploads/GourmandBreaks_v12.png
admin
2014-04-02 07:25:51
2020-11-17 15:47:01
Tortilla de Patatas/Potato Omelet – Traditional Spanish Recipe