Pintxos and Tapas – Spanish Food & Culture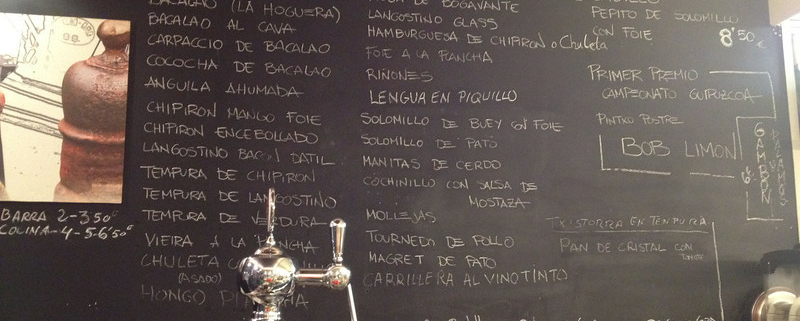 The difference between a Pintxo and a Tapa is complicated and depends largely on context and location in Spain. Which came first –  the Pintxo or the Tapa?  Did Pintxos originate in the Basque Country or were  Tapas invented in Andalucia and then perfected in San Sebastian?  The origin of these great Spanish bites is a little hazy, but what IS known is that all over Spain Pintxos and Tapas are a way of life,  Spanish culture at it's very best!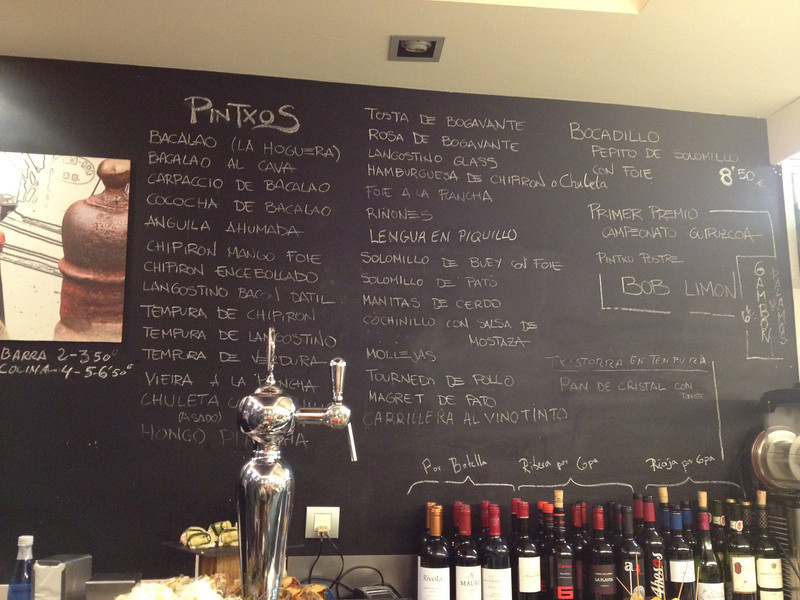 'Pintxo' is the Basque word for the Spanish 'Pincho', which itself comes from the verb 'Pinchar', which means to pierce.  Pinchos are traditionally pierced with a cocktail stick, to attach the ingredients to the piece of bread they sit on. However, as Basque cuisine has evolved, the food is now less likely to be pierced to a piece of bread than before. Each bar is bursting with many different varieties and Spanish tradition suggests to have one or two pinchos with a glass, or two, of the best local Txakoli wine in one bar and move on to the next.  You can find places that serve up to 100 different pintxos at a time. They can be warm or cold, salty or sweet, and traditionally many pintxos come with seafood and goats cheese, although you will find a many combinations such as Tortilla de Patatas, eggs with tuna, croquets and even  mini hamburgers.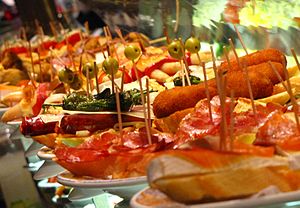 Pintxo etiquette, basically, is that you grab your plate and start loading onto it whatever tickles your taste-buds; it can be difficult because normally they all look so good and you want to try everything.  When you're full and just can't  manage one more bite the waiter will come to count the toothpicks that are left on your plate. The most common rule is that you pay per toothpick and because of this there is usually a standard price on all pintxos, no matter what they may contain.
Away from the Basque Country, you will find 'Tapas' the plural form of 'Tapa' which itself comes from the verb 'Tapar' meaning to cover.  In Barcelona, and Catalonia, you will however see the word 'Tapes' which is the Catalan equivalent for the Spanish 'Tapas'.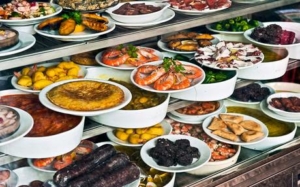 In the old days Andalusian tavern dwellers used a small plate of food to cover their sherry from the fruit flies between sips, hence the connection with the verb 'Tapar'.   Today, tapas hopping is part of Andalusian life and in Seville, for example, there are more than 4,000 tapas bars – roughly 1 for every 200 locals so you know they know what they're talking about!  In the many foodie hot-spots you can try a variety of dishes that come freshly out of the kitchen. Plate after plate of hot and cold food appears on the bar to tempt your palate, so maybe try cold roasted pepper salad or anchovies in vinegar, a hot dish of meatballs in sauce or a slice of Potato Omelet.  In many cities in Spain, particularly Madrid and Barcelona, a large portion of, say, calamares, will be called a 'ración' and a quarter-size portion a 'tapa'.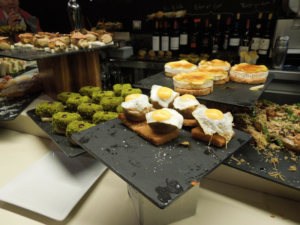 'Pintxo' or 'Tapa' ?  Oh! and, free or not free? These are the questions!
In the Basque Country, you are served 'Pintxos'.  It is never written 'Pinchos' and they are never called 'Tapas'.  Whether it is served pierced to a piece of bread with a cocktail stick or not (a plate of risotto is still a pintxo) you will always pay for your pintxo.
In Salamanca you are served 'Pinchos'.  They are usually a piece of meat served on a piece of bread. Though not actually pierced with a stick, this is still close to the original idea of what a 'Pincho' is.  You will be served a pincho free of charge, to accompany your drink.
In Granada and Leon (and in some other nearby cities) as well as in some bars in Madrid, a small portion, whether served on bread or not, is a 'Tapa'. It is free, when served with your drink.
In  Seville and parts of Andalusia, all small portions are called 'Tapas' and in Barcelona and Catalonia 'Tapes'. They are not free.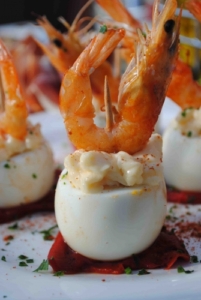 Join the popular Spanish Tapas Hopping Culture on one of our Private Food and Wine Tours where you can hit the Foodie Hot-Spots in Madrid, San Sebastian, Seville or Barcelona with our local Officially Licensed Guides.
https://www.gourmandbreaks.com/wp-content/uploads/Pintxos-board.jpg
600
800
admin
https://www.gourmandbreaks.com/wp-content/uploads/GourmandBreaks_v12.png
admin
2014-03-27 11:08:00
2020-10-22 10:14:58
Pintxos and Tapas – Spanish Food & Culture