Michelin Guide 2015 – Complete List Michelin Starred Restaurants Spain 2015

The Michelin Guide to Spain and Portugal 2015 was presented last month!  With little surprises for Spain with only 20 NEW Michelin Stars being awarded here's the FULL Complete List of ALL Michelin Starred Restaurants in Spain for 2015: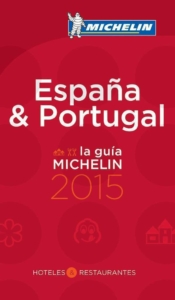 No NEW Michelin 3 star restaurants keeping the total of 8 Michelin 3 star restaurants in the Michelin Guide Spain for 2015:
Akelarre. Pedro Subijana (Guipúzcoa)
Arzak. Juan Mari Arzak (Guipúzcoa)
Azurmendi. Eneko Atxa (Vizcaya)
DiverXO. David Muñoz (Madrid)
El Celler de Can Roca. Joan Roca (Girona)
Martín Berasategui (Guipúzcoa)
Quique Dacosta (Alicante)
Sant Pau. Carme Ruscalleda (Barcelona province)
1 NEW Michelin 2 star restaurant bringing the total to 18 Michelin 2 star restaurants in the Michelin Guide Spain for 2015:
Abac. Jordi Cruz (Barcelona)
Aponiente. Ángel León – El Puerto de Santa María (Cádiz)  NEW
Atrio. Toño Pérez (Cáceres)
Calima. Dani García (Marbella)
Casa Marcial. Nacho Manzano (Asturias)
El Club Allard. María Marte (Madrid)
El Portal. Francis Paniego (La Rioja)
Enoteca. Paco Pérez (Barcelona)
La terraza del Casino. Paco Roncero (Madrid)
Lasarte. Martín Berasategui. (Barcelona)
Les Cols. Fina Puigdevall (Girona)
M.B. Martín Berasategui (Santa Cruz de Tenerife)
Miramar. Paco Pérez (Girona)
Moments. Raül Balam (Barcelona)
Mugaritz. Andoni Luis Aduriz (Guipuzcoa)
Ramón Freixa (Madrid)
Santceloni. Óscar Velasco (Madrid)
Sergi Arola Gastro (Madrid)
19 NEW Michelin 1 star restaurants in Spain, bringing the total to 143 Michelin 1 star restaurants in the Michelin Guide Spain for 2015:
* Andalucía
Choco (Córdoba)
La Costa (El Ejido)
José Carlos García (Málaga)
El Lago (Marbella)
Skina (Marbella)
Alejandro (Roquetas de Mar)
Abantal (Sevilla)
* Aragón
Las Torres (Huesca)
Lillas Pastia (Huesca)
Tatau Bistro (Huesca)   NEW
Hospedería El Batán (Tramacastilla)
La Prensa (Zaragoza)
* Asturias
El Corral del Indianu (Arriondas)
Auga (Gijón)
La Salgar (Gijón)
El Retiro (Llanes / Pancar)  NEW
Casa Gerardo (Prendes)
Arbidel (Ribadesella)
Real Balneario (Salinas)
* Baleares (Islands)
Zaranda (Mallorca / Es Capdellà)
Andreu Genestra (Mallorca / Capdepera)  NEW
Es Molí d'En Bou (Mallorca / Sa Coma)
Es Racó d'Es Tix (Mallorca / Deià)
Simply Fosh (Mallorca / Palma)   NEW
Es Fum (Mallorca / Palmanova)
Jardín (Mallorca / Port d'Alcudia)
Can Dani (Formentera / Sant Ferrán de ses Roques)  NEW
* Canarias (Islands)
Kabuki (Tenerife / Guía de Isora)
Kazan (Tenerife / Santa Cruz de Tenerife)   NEW
* Cantabria
Solana (Ampuero / La Bien Aparecida)
El Nuevo Molino (Puente Arce)
Annua (San Vicente de la Barquera)
El Serbal (Santander)
Cenador de Amós (Villaverde de Pontones)
* Castilla-La Mancha
Maralba (Almansa)
El Bohío (Illescas)
La Casa del Carmen (Olías del Rey)
Las Rejas (Las Pedroñeras)
El Carmen de Montesión (Toledo)  NEW
Tierra (Torrico / Valdepalacios)
* Castilla y León
Cocinandos (León)
La Botica (Matapozuelos)
La Lobita (Navaleno)  NEW
Víctor Gutiérrez (Salamanca)
Refectorio (Sardón de Duero)  NEW
* Catalonia
Les Magnòlies (Arbúcies)
Ca l'Arpa (Banyoles)
Alkimia (Barcelona)
Angle (Barcelona)
Caelis (Barcelona)
Cinc Sentits (Barcelona)
Comerç 24 (Barcelona)
Dos Cielos (Barcelona)
Dos Palillos (Barcelona)
Gaig (Barcelona)
Hisop (Barcelona)
Hofmann (Barcelona)
Koy Shunka (Barcelona)
Manairó (Barcelona)
Nectari (Barcelona)
Neichel (Barcelona)
Pakta (Barcelona)   NEW
Roca Moo (Barcelona)
Saüc (Barcelona)
Tickets (Barcelona)
Vía Veneto (Barcelona)
Lluerna (Santa Coloma de Gramenet)
Can Jubany (Calldetenes)
Can Bosch (Cambrils)
Rincón de Diego (Cambrils)
Estany Clar (Cercs),
Bo.Tic (Corçà)
Malena (Gimenells)
Massana (Girona)
La Fonda Xesc (Gombrèn)
Casamar (Llafranc)
Els Tinars (Llagostera)
Sala (Olot)
Els Brancs (Roses / Playa de Canyelles Petites)
Els Casals (Sagàs)
L'Ó (Sant Fruitós de Bages)
Fogony (Sort)
Capritx (Terrassa)
La Cuina de Can Simon (Tossa de Mar)
Les Moles (Ulldecona)
Ca l'Enric (La Vall de Bianya)
Villa Retiro (Xerta)
* Galicia
Yayo Daporta (Cambados)
A Estación (Cambre)
Alborada (A Coruña)
Árbore da Veira (A Coruña)
Culler de Pau (O Grove / Reboredo)
As Garzas (Malpica de Bergantiños / Porto Barizo)
Nova (Ourense)   NEW
Solla (Pontevedra / San Salvador de Poio)
Pepe Vieira (Raxo)
Retiro da Costiña (Santa Comba)
Silabario (Tui)
Maruja Limón (Vigo)
* Madrid (Community)
Casa José (Aranjuez)
Coque (Humanes de Madrid)
DSTAgE (Madrid)  NEW
Kabuki (Madrid)
Kabuki Wellington (Madrid)
La Cabra (Madrid)  NEW
Punto MX (Madrid)  NEW
Álbora (Madrid)  NEW
Montia (San Lorenzo de El Escorial)  NEW
Chirón (Valdemoro)
* Murcia (Region)
La Cabaña de la Finca Buenavista (Murcia / El Palmar)
* Navarra
Europa (Iruña)
Rodero (Iruña)
El Molino de Urdániz (Urdaitz)
* Basque Country
Boroa (Amorebieta / Boroa)
Etxebarri (Axpe)
Aizian (Bilbao)  NEW
Etxanobe (Bilbao)
Mina (Bilbao)
Nerua (Bilbao)
Zortziko (Bilbao)
Kokotxa (Donostia)
Mirador de Ulía (Donostia)
Miramón Arbelaitz (Donostia)
Marqués de Riscal (Elciego)
Andra Mari (Galdakao)
Elkano (Getaria)   NEW
Alameda (Hondarribia)
Zuberoa (Oiartzun)
Zaldiarán (Vitoria)
* La Rioja
Venta Moncalvillo (Daroca de Rioja)
* Valencia (Community)
Monastrell (Alicante)
L'Escaleta (Cocentaina)
Casa Manolo (Daimús)   NEW
Casa Alfonso (Dehesa de Campoamor)
La Finca (Elche)
Casa Pepa (Ondara)
El Poblet (Valencia)
La Sucursal (Valencia)
Ricard Camarena (Valencia)
Riff (Valencia)
Vertical (Valencia)
Cal Paradís (Vall d'Alba)
BonAmb (Xàbia)
But it's not all about giving. 3 restaurants lost their stars according to the inspector's valuations and 6 lost them because they are either closed temporarily or permanently:
L'Aliança d'Anglès (Anglès / Girona)
Zalacain (Madrid)
Bal d'Onsera (Zaragoza)
41º de Barcelona (Closed temporarily)
Ars Natura de Cuenca (Closed temporarily)
Delacalle de Aranjuez (Closed)
La Llar de Castelló d'Empúries (Closed)
Mas Pau de Figueres (Closed)
Julio de Fontanars dels Aforins (Closed)
With Spanish Chefs taking the World by storm, now is the time to visit Spain with 10% of the World's Best Restaurants and numerous Michelin starred Restaurants!  On one of our Private Food, Wine and Cultural Tours you can indulge in the Best Michelin Starred Restaurants in Spain.  Contact us for your personalized quote.
https://www.gourmandbreaks.com/wp-content/uploads/estrelamichelin-01.jpg
705
1140
admin
https://www.gourmandbreaks.com/wp-content/uploads/GourmandBreaks_v12.png
admin
2014-11-21 16:35:46
2021-01-22 15:21:39
Michelin Guide 2015 – Complete List Michelin Starred Restaurants Spain 2015